Everything you need to know about your stay at ISH
Whether you're here for a month or for all 3 years of your course, living at ISH is like living in a big family home; you have everything you need in one building. The facilities available include a laundry room, kitchens, a bar and bistro.
Additionally, on every floor there is a helpful Resident Advisor who understands what it's like to live far away from home while studying at university, and will help you however they can.
HERE TO HELP:
The Dean of Student Life is Dr Sharon Bolton.
She provides confidential welfare support to residents, no matter the issue. Whether it's navigating new bank accounts and phone contracts to serious mental health issues, Sharon is a sympathetic and non-judgemental source of support to residents.
Email: s.bolton@ish.org.uk
Phone: +44 (0) 20 7631 8366
or, if you prefer meeting face to face, you can book an appointment here: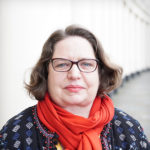 Accommodation Portal
Should you have a Maintenance fault you should report the problem via the Starrez ISH portal
Still haven't found what you're looking for? Check our knowledge base here: