Hi, my name is Aishwarya, and I'm currently studying at the University of Greenwich. I study MA in Strategic Advertising and marketing communications. It is a one-year post grad course and I have been travelling to the university for 10 months now and it's an experience worth sharing with everyone so today join me as we experience a day at the University. of Greenwich. Currently, during the dissertation season, I have completed my classes and shifted my focus solely to my thesis. As a result, I find myself dedicating more time to work from both my room and the library. I primarily visit the university for meetings with supervisors and attending therapy sessions with the school counselor. Today, my plan is to spend the day at the university, making the most of its resources and studying alongside some friends. A charming village in the suburbs of London, England, called Greenwich is nestled along the banks of the river Thames and this charming neighbourhood offers an enthralling fusion of the past and modern. It is steeped in a rich maritime tradition and recognised as a UNESCO World tradition Site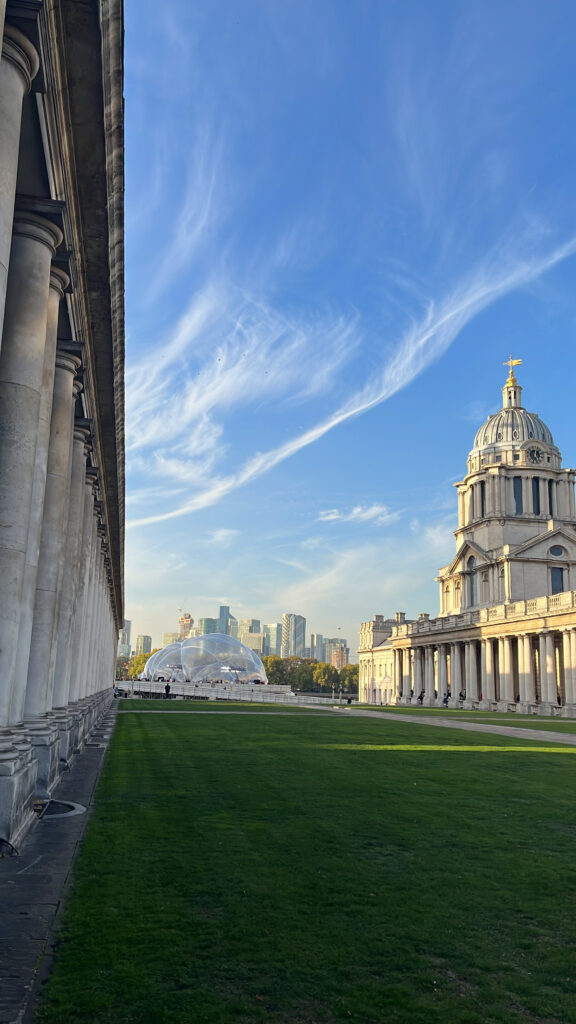 .
So, this morning at 11:30, I left the international students' house and kicked off my journey by hopping on the tube at Great Portland Street station. My destination was Canary Wharf Station, and I took a two-step route to get there. First, I hopped on the Hammersmith and City line, which took me to Baker Street station. From there, I switched to the Jubilee Line, and voilà, I ended up at Canary Wharf Station. Once I got there, I headed over to the nearby DLR station, known as Heron Quays. The whole journey took around 1 hour, and let me tell you, it got me thinking about how these travel expenses can pile up, especially for students like me studying at the University of Greenwich and living in central London.
Here's a useful tip I want to share with you all. You might want to consider getting yourself a student Oyster card and use it in travelcard mode. That way, you can pay for your journeys on a weekly, monthly, or even yearly basis. The student Oyster card lets you travel around London using various modes of public transportation within your chosen zones. It's not only cost-effective but super convenient for regular commuters like us! So, if you find yourself often moving between central London and places like Canary Wharf, trust me, the student Oyster card with the travelcard feature is an absolute lifesaver in this bustling city. It's the key to seamless travel and helps you focus on your studies and city exploration without the constant headache of travel costs.
So, after I got off at the Cutty Sark DLR Station, I was all pumped up to hit the college for a super productive research and study session. But you know what they say, "All work and no play make Jack a dull boy," right? So, I thought, why not take a little break from all that academic stuff? And here's the fun part! I convinced my buddies to join me, and we went to check out this awesome place called the Painted Hall at the University of Greenwich. Let me tell you, it's an absolute gem of architecture! Seriously, it's so stunning that it's become a hot spot for tourists from all over. We were just there, mesmerized by the beauty of the hall. It's like walking into a piece of art. The intricate details and colors were mind-blowing. We couldn't help but go "wow" at every turn. So yeah, we had a mini adventure, soaking in the amazing sights before we got back to the books. We all love these little breaks, right? They make studying even more rewarding!
Alright, so after that mind-blowing trip to the Painted Hall, I had this super important meeting lined up with my supervisor. That meeting was a game-changer! My supervisor gave me some seriously valuable insights, and I'm feeling pumped to tackle my academic project head-on now. It's like I've got the secret recipe for success! After the meeting, my classmate and I got back to work on our dissertations, all fired up from the awesome discussion. But, hey, we're not all about work, work, work! We know breaks are essential to keep the creative juices flowing. So, we decided to take a leisurely stroll around the campus. You won't believe where we ended up—near this super scenic spot by the gate that opens to the peaceful River Thames. Can you imagine? We were just chilling there, taking in the beautiful surroundings, and recharging our batteries. It's moments like these that make the whole academic journey even more memorable, you know?
The sound of the flowing river was so soothing, and the whole riverside scene was like a magical escape from all the academic craziness. We just sat there, soaking in the tranquility, reflecting on life, and embracing the natural beauty around us. It was like a moment of pure rejuvenation! And you know what? That break was exactly what we needed. It refreshed our minds and pumped us up with new energy. So, when we got back to our dissertation work, we were totally focused and determined to kick it out of the park!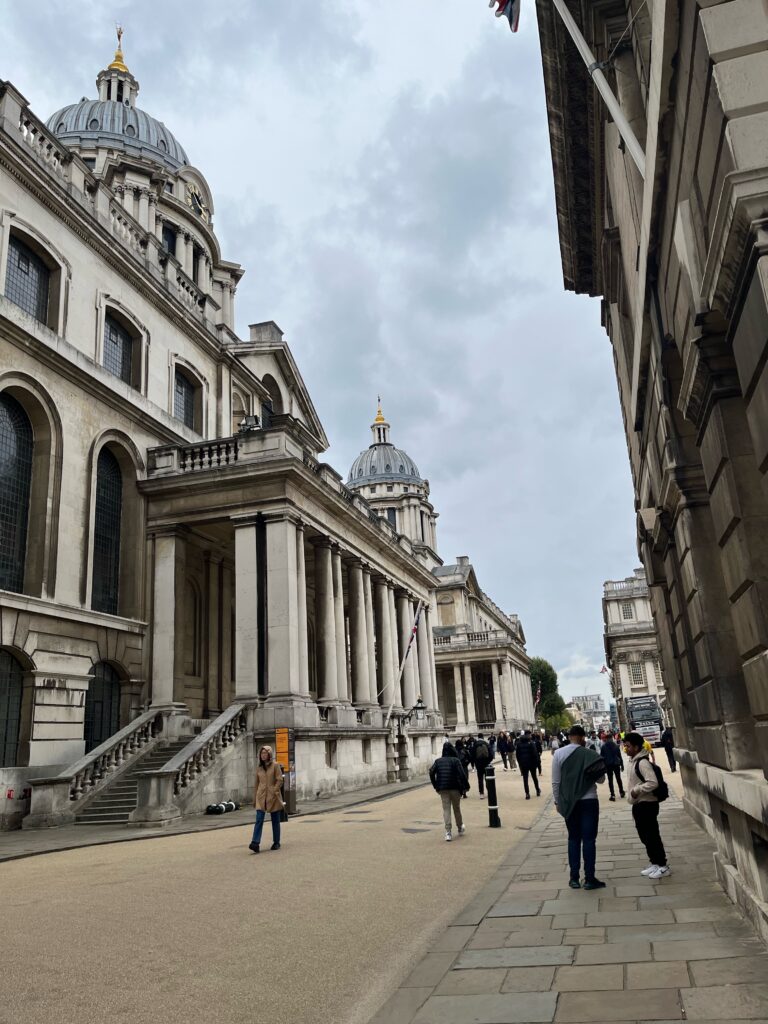 The University of Greenwich's campus has this amazing mix of historical charm and modern facilities. It's like the perfect environment for both studying hard and taking some quality me-time. From the cultural wonder of the Painted Hall to the serene vibes by the Thames, this place just nurtures both our brains and our souls. It's the best of both worlds! As the day wrapped up, I couldn't help but feel so grateful for all the enriching experiences I've had here in this awesome university community. It's been a blast, and I can't wait for more adventures!
So, after we wrapped up our walk and last study session, we decided to check out the National Maritime Museum. Why? Because they had this cool outdoor exhibition called "The World Reimagined." It was all about those 36 painted globes that aimed to change how we see the transatlantic slave trade and its impact on everyone, with the goal of achieving racial justice. Pretty deep stuff! We were all excited to see it, and when we got there, it looked amazing! Loads of families with their kids were there, having a blast. But guess what? Just our luck, the exhibition was about to close when we arrived, and we couldn't get in. Bummer!
After that slight letdown, I treated myself to some McDonald's goodness before catching the train back home. Sometimes, you just got to have a little pick-me-up, right? Anyways, even though we missed the exhibition, it was still a fun day out with great company. There's always more to explore and discover, so we'll keep our eyes peeled for the next cool thing to do. Until then, let's keep having awesome adventures together!