This story was submitted by Sora Wakabayashi, a 2020 Scholarship student of Toyota City Trevelyan Trust
It's been 9 months and my exchange program in the UK is about to finish in the next few weeks. Life in the UK is much better than I expected. It ended up being the perfect time for me to study abroad even though I had to postpone it as the COVID-19 pandemic prevented all foreigners from entering the country with most things around the world having to close for very long periods.
During my stay in the UK, I was able to meet new friends from many countries, who I would not have been able to meet if I hadn't decided to study in the UK. I learned about Japan from outside the country in my modules at Newcastle University and was able to see how the entire world started to recover from the pandemic. The UK slowly began to open its borders and allow travelling to European countries again, and the pandemic regulations started to decrease compared with the first day I arrived in the country.
One of the best things about my life in the UK so far has been to find a new hobby and to be able to cycle and discover new things and places that many other exchange students from Japan won't see. Before I started cycling, I didn't think the UK would have so many beautiful places near large cities that would look and feel so familiar as they all look very similar to what you can find in Japan. I visited places such as Hexham, Tynemouth, and the Scottish Border. The most fascinating part of cycling through all those places was the contrast between cities and rural areas. Back in Japan, I used to love to drive my motorbike and car to appreciate these contrasts.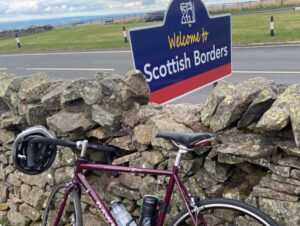 In contrast to the similarity of sceneries between Japan and the UK, I noticed a very interesting difference from Japan, especially from Toyota, where cars are the primary transportation method. The UK has well-maintained cycleways by either the UK government or local authorities that allow cyclists to reach their destinations safely. Although Japan reinforced the law to encourage cyclists to ride their bikes and share the road with motor vehicles, the current situation is still difficult for cyclists in Japan as there are only a few well-maintained cycleways that separate cyclists from vehicle drivers. Thus, I hope to maintain these cycleways for cyclists in Japan as well to secure both drivers and cyclists.
Lastly, I would like to show huge appreciation to Toyota Shi Trevelyan Trust, my home university Aichi Prefectural University, my whole family, and everyone I met here for giving me such a great opportunity and supporting me in so many ways to fulfil my study program.
---
Have you also read these articles?
My Study Experience in Japan: Sarah's story