Hello, I'm Aishwarya Kadam, a Masters student in London. I did my Masters in MA Strategic Advertising and Marketing Communications from the University of Greenwich and as I reach the end of my course, I want to share all the things that I realised after living in the UK for more than a year now. From navigating a new educational system to exploring a foreign culture, international students embark on a transformative
adventure.
1. Using Digital assets.
Once I got access to Moodle, I got the opportunity to explore and delve deeper into the coursework, along with accessing valuable learning materials. Additionally, a list of recommended textbooks tailored for specific modules was provided by the university to us. It's essential to note that as a student, it is not an obligation to purchase these textbooks; instead, I readily have access to them online.
Most of these online resources can be easily reached by using the student's email address. This ensures that everyone has the necessary resources at their disposal without the need for costly purchases. If I ever wanted physical textbooks, I would reach out to the library and they would arrange it for me. And at times when I couldn't reach my University I used to go to local libraries as they are extremely popular in the UK. You can just go with your student card, or you can register and get a reader's pass for free and use the resources provided by the libraries like The British Library, UCL Library and many more.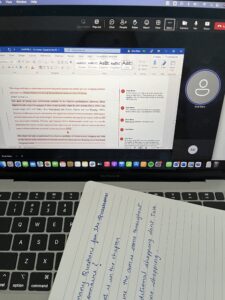 2. Understanding the study method
The British educational system and study habits can be a lot different as an international student in the UK because they may differ from those you're used to back home. I had to unlearn the study environment I come from and adapt to this one. Independent learning is heavily valued in the UK and everyone is expected to take ownership of their education by reading, researching, and learning more than what is covered in lectures.
In UK institutions, lectures are a common mode of instruction. Professors present lectures to a sizable class of students, giving an overview of the material. There are lectures of all modules and then tutorials of the same, and tutorials made it easy for me to interact in the class and exchange thoughts and ideas as tutorials are a class of 20-25 students, this offers the chance for in-depth talks, question-asking, and doubt-clearing. The UK values academic honesty highly. By properly referencing the sources in my
writing and adhering to the academic integrity requirements of the university, I prevented plagiarism.
3. Negotiating your work contract
When I started off my first part-time job, I didn't know this, but I would highly recommend students to thoroughly read the contract and negotiate if working hours and stable income are your priority. As most of the part-time jobs in the UK offer zero-hour contracts, I did not have a minimum number of hours of guaranteed labour under my zero-hour contract. It can be difficult to manage your week as it can be uncertain. It was challenging for me to efficiently plan spending and manage money as I didn't have a steady salary. Financial stress can impact your well-being if you're planning to live here independently. So, I would recommend finding part-time work with more stable hours if at all possible.
4. Cooking can become a chore
Cooking takes a lot of time and as a student, it was not easy to take time out from my part-time
job and university to cook every day. I have learnt to make various easy recipes or quick meals
that will be fulfilling and less time-consuming. My friends and I used to batch-cook food so that
we could focus on our studies as well and we didn't have to cook daily. Cooking meals daily was
a challenge that I faced and if I had known that I would have learnt more simple recipes that
were easy and quick to execute before coming here.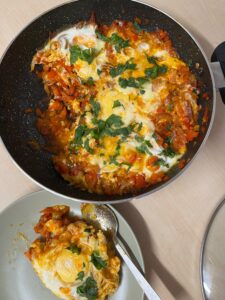 5. Keeping track of your finances
When we are on our own it's going to be difficult if we don't keep track of the finances. Fortunately, I had this knack of keeping track for a long time, but that was just because I had seen my father managing finances efficiently. Budgeting and saving are one of the crucial things I have done since I have come to the UK, and consistency is the key. I usually tell my friends to keep a record so that they know how, where and how much they're spending. Knowing this will help you cut down on unnecessary expenses and help you set a weekly or monthly budget.
6. Do not carry a lot of stuff with you.
When I came as an international student, I brought a lot of food items and utensils which I realised were available in London. Indian stores usually have everything, The amount of utensils I got was quite a lot and it just took up space in the bag and increased its weight. Some of the stuff is still unused. I think carrying less of this stuff would have made my travel a bit easier.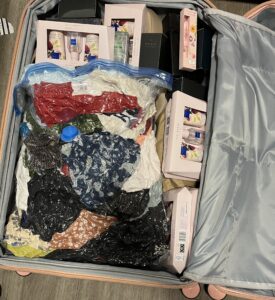 7. University ended too soon.
I went to the University of Greenwich and as a master's student in marketing, we had no exams but research papers to write. My first term started in September and ended in December. The second term ran from Jan to the first week of April followed by an Easter holiday month. The third term was mostly time for our dissertations which meant no classes, and soon enough it was August, and the year was over. I really felt like the academic year ended so early and if I had known how fast the time flies, I would spend a lot more time with my friends and in and around the Greenwich area. I also would have connected to professors better by spending more time in and around the campus.
8. Internship.
If you're planning to take up an internship in the UK, start applying to it as soon as possible. In my experience, I didn't know that to get a summer internship you have to apply from December. Summer internships are very competitive and essential to have a UK-based experience to increase the chances of future job prospects. I was lucky to get an internship in marketing at the International Students House. Getting an internship here helped me understand the work culture of the UK, which will be helpful for me in the future. Look up sites like Indeed and LinkedIn as well as recommendations from your university for internship opportunities.
9. Upskilling is Important
During my time as a student, I have made the most of my free time by upskilling through online courses in my field. Maybe it's an in-demand tech skill like Google Analytics learning a Facebook marketing skill or even mastering basics like Microsoft Excel and Google Sheets. Universities in the UK offer LinkedIn learning to students, and I have done a lot of courses from there for free. These are the resources that we should use and make the most of it. Many universities even offer first-year guidance to make your transition to campus life easier, and likewise, also provide mentorship programmes that better equip you for post-graduation careers.
As a student, I applied to the mentorship programme provided by my university and it was a great experience. My mentor helped me understand the importance of skills and I have done a lot of courses to upskill myself. Not many people know about the mentorship programme at their university, so I would recommend looking up the university website and applying as soon as it is open.
10. The hunt for accommodation after your studies
Looking for accommodation in the UK after your studies are done is a challenging task. I started flat hunting in the month of July as I needed to move out of my student accommodation in September and it was very stressful as accommodation in London is very difficult to secure. Balancing my dissertation, internship and House hunt was a bit difficult, but in the end, you have to do it. If I had known this, I would have started the hunt a bit earlier to avoid the stress. I would recommend anyone who will have to look for a house, to start early so that you can do your coursework and house hunt without stress and exerting yourself out.
It really feels great to share my experience as my academic year comes to an end and there is a new batch coming in this year. I'm glad I got this opportunity to share this and hopefully, it will help students coming in future to live their dream in this country. This blog is through my lens as a student, where I shared my realisations from getting access to free resources at the beginning of the year to looking for a house at the end of the year. I have had an incredible year of trial and error and amazing memories and that is exactly how students experience growth and discover themselves. I would proudly say that I have evolved much more than in comparison to last year, and this growth is just making me a better person with every passing day.
Have you also read these articles?
10-tips-for-a-zero-waste-lifestyle