We're excited to be relaunching our podcast now titled Uni, Life & ISH.
We'll be releasing weekly episodes with a different student, staff member, or alumnus/alumna each week, who'll be sharing their personal experiences on a range of topics relevant to us all. We hope that they inspire our community in the journey through university and life.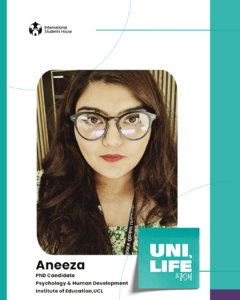 Our first guest on the podcast is Aneeza Pervez, a social development psychologist from Pakistan. she has published work in the field of social psychology and she is completing her Ph.D. in psychology and human development at UCL Institute of Education. The conversation covers a lot of important issues – mentorship, support in the academic journey, mental health, the impact of COVID.
You can listen to the full episode here.