Friends are crucial in any student's hectic life and sharing a meal is one of the greatest activities for bringing people together! Consider how true it is that "Friends who eat together, stay together" — regardless of your age or place of origin. Today's story is about how the kitchen became a special bonding place for some ISH residents from India, how cooking and eating together became a time to connect, vent and create special memories.
Ishna Singh – I was personally someone who never had to cook when I was back home (India) but here, that changed. I think while cooking together, our struggles and failures brought us all closer as we often helped each other with our meals. Cooking together after long, hectic days became a cherished ritual, one I started looking forward to eagerly. It provided us with the perfect opportunity to unwind and connect with one another. We would share our daily experiences, discussing how our days had gone, and in the process, deepened our friendships.
Over time, my neighbors transformed into some of my closest and most trusted friends. We bonded over the shared joys and frustrations of cooking, turning our initial struggle into something beautiful and meaningful. As we continued our cooking adventures, we became more adept in the kitchen, and our meals improved. Our cooking sessions had become more than just a means of nourishment; they became a source of happiness and fulfilment.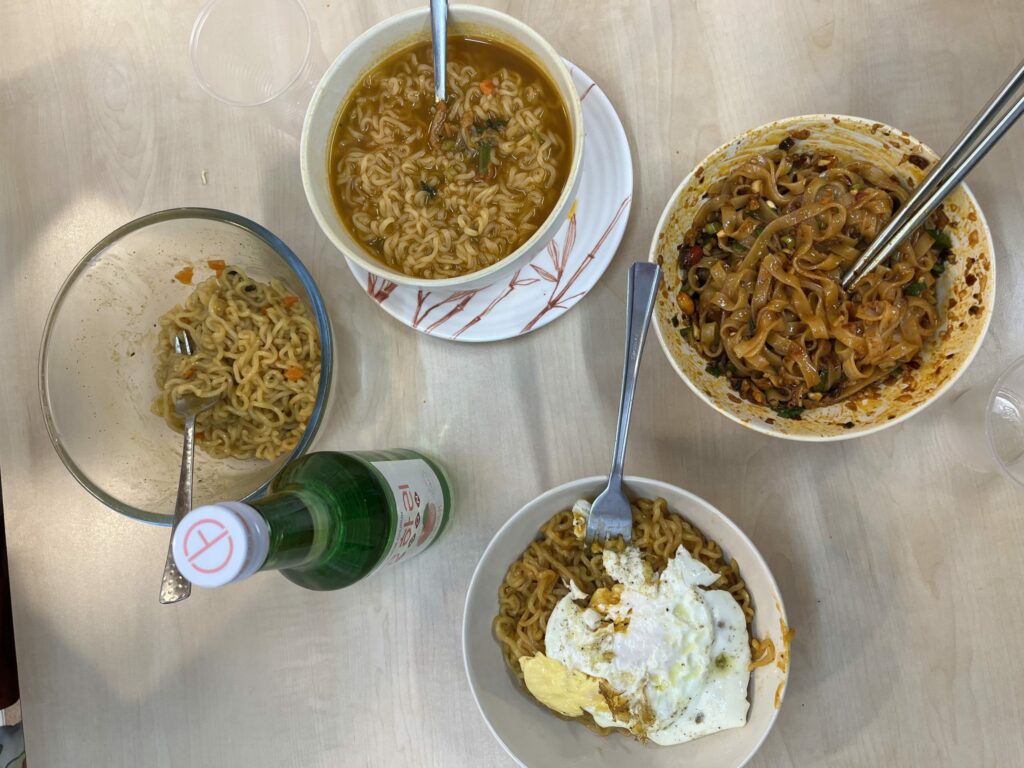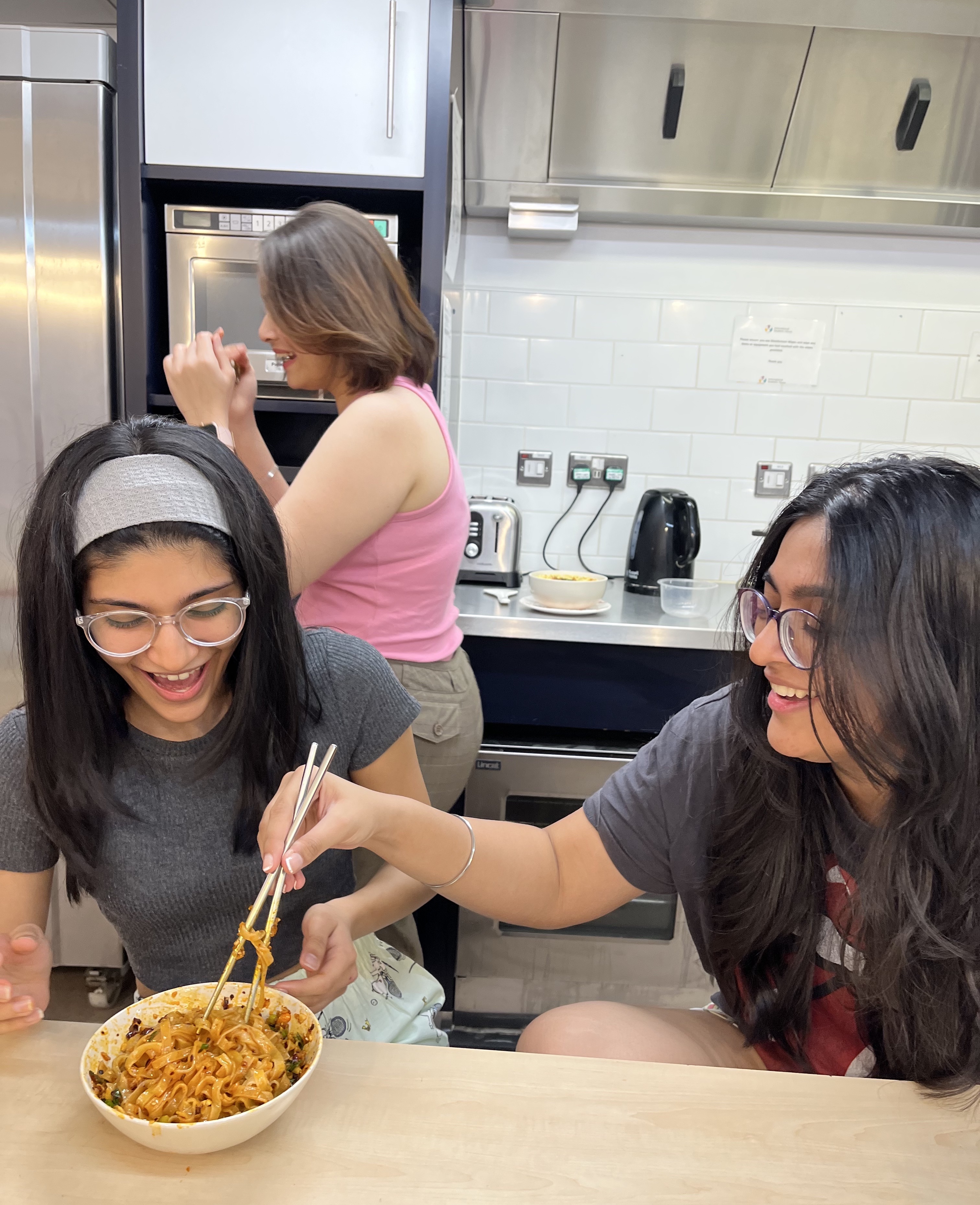 Aayushi Dani – Cooking together has been the secret ingredient that brought us all closer at ISH. The diverse mix of cultures and backgrounds turned out to be a recipe for forging lasting friendships. As we gathered in the communal kitchen, my friends and I bonded through playful  mishaps, family recipes, culinary tips, burnt food, and so much more. Cooking together has not only satisfied our appetites but also nourished our bonds. With late-night ramen sessions, 3 AM food cravings, and potluck parties the kitchen has truly been the centre for long-lasting memories.
Kashish Uppal – I love cooking in the Wills House kitchen with my friends and to-be friends! A lot of my friendships here began as bondings over food or sharing ingredients in the kitchen. We've got this awesome community of students who are total foodies, and the kitchen is where the magic happens. We laugh, we experiment, and we cook up some amazingly delicious stuff together. It's not just about the food though; it's the friendships we form that make this place special.
I had never imagined such beautiful relationships to stem out of a simple "Hey can you teach me how to use the stove".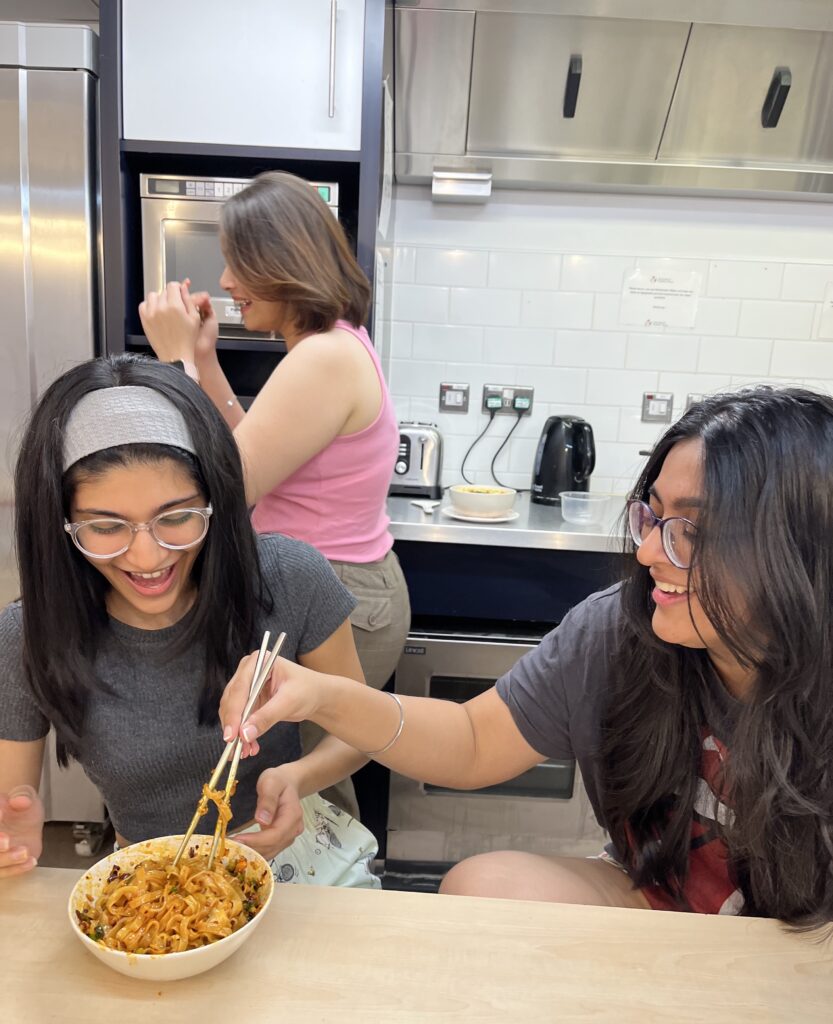 Roshni Khorana – When we leave our home, and our comfort behind and face a different set of challenges here, we tend to lose our spark in life. And to reignite that spark, we need someone. It's not the things but rather the people we invest in. Here at ISH, I have invested in a few people who never fail to reignite my spark when it dims. We cooked together and lived on the same floor which got us really close to each other. We talk our hearts out, laugh and even cry at times.
Cooking is what got us all close together in the first place. And before I knew it, cooking with friends turned into a self-sustaining support system. As we look forward to starting new chapters in our lives, we may part ways, but I shall always have my London Family. I can maybe afford to eat at Michelin-star restaurants someday, but not even the best of the chefs could ever match the food that I've had with my family here.
Cooking together has made a huge change in all our friendships, especially when we're cooking with people from different cultures – we all share our food and make each other taste whatever we make. Some of us have learnt non-disastrous cooking in these kitchens, we have also sung and danced to Bollywood songs while cooking, gossiping and a lot more. I would say dinner is what we all look forward to after a day of working or studying – it's that special time we get together relax and just wind down. So if you're looking to make new friends or bond with the people in your student accommodation, try the kitchen!
Have you also read these articles?
A day at the University of Greenwich.