The most important question that every prospective international student has is: Is it worthwhile
to study abroad?
In September 2022 I moved to London as a student and the journey has been an amazing roller
coaster. One of the best decisions I ever made for my professional career was to complete my
Masters in Strategic Advertising and Marketing Communications at the University of Greenwich
in London. London was never my first choice for a master's programme because, like everyone
else, I assumed it would be extremely expensive, but my tuition fee for the year as an
international student was 16,000 GBP, which is less than other colleges that provide a nearly
identical programme. However, I ultimately chose London since it is one of the best cities to
study advertising and marketing.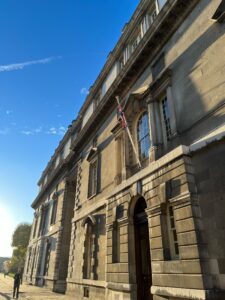 Many people have asked me why I chose the University of Greenwich when I could have applied
to Russell Brown Universities with higher rankings. I chose the modules that matched my
interests since I felt that they were more significant to me than any rankings. I made a total of 4
applications, with the University of Greenwich being my top choice. I wanted my course to
combine marketing and advertising so that I would have more real-world experience while
studying the theory.
I would say my time as a student exceeded what I expected and beyond my expectations. I was
very pleased with how inclusive and participatory the tutorials were. It's important to understand that lectures and tutorials have different functions within the term time. While tutorials are given
in smaller groups with an average of 20 to 25 students, lectures often include imparting
information to a wider audience. The intimate setting of tutorials enables more individualised
involvement and attentiveness. I had the chance to learn during these tutorials, but I also
developed my confidence in speaking up in front of a group of people in a classroom.
Throughout my academic career, I observed substantial growth in a variety of areas.
We were allowed to select from two sets of optional electives, and we had the choice between a
consulting project and a dissertation. While we were still students, the consultancy project
allowed us to work for a business and get practical experience, whereas the dissertation was
entirely theoretical and research-based. My final project was a dissertation, which provided me
with excellent practice with analytics software and calculations. I received excellent coaching
from my supervisor because I was having a lot of problems. She assisted me whenever I needed
it and was even available on the weekends.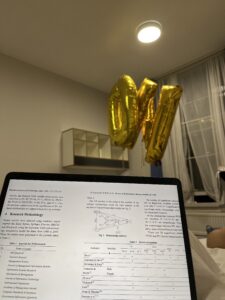 Being an international student has greatly enriched and transformed my life. Even though there
were times when I struggled and felt overwhelmed, I'm glad that my university provided the
crucial resources I needed to get through those trying times. These included counselling and
therapy services, which played an important role in helping me with both my academic and
emotional issues. In addition to helping me get beyond academic challenges like exams and
research, the university's support system made sure that my mental health remained a primary
concern.
Students usually don't take advantage of the university-provided resources. In one year I made
use of technical resources like LinkedIn Learning, Mintel, LibGuides, Targetconnect, and the
mentorship programme. Other than that, there were classes for academic writing and languages
for students coming from different educational backgrounds or whose first language is not
English. My overall experience was much improved by this all-encompassing approach to
student well-being, which also enabled me to excel in my studies and keep a positive outlook on
life.
Moreover, being able to participate in Greenwich's history as a student at the University of
Greenwich was an incredible experience for me. We were close to museums, parks, and the
famous Painted Hall, which was on the school campus and was open to us for free. Because it is
a student-focused neighbourhood, it is brimming with affordable dining alternatives.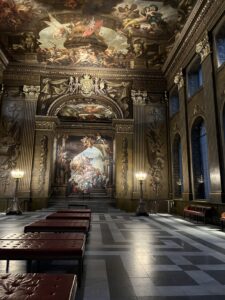 I chose to live in a student accommodation that was not the usual university hall and that is how
International Students House (ISH) became my home for the year. ISH is in one of the most beautiful and accessible locations for students – central London, 5 mins away from Regents Park and within walking distance of several London university campuses. As I soon learnt, the cost of living differs from one zone to another zone and you have to consider things like travelling using the tube or buses as well as groceries. In my experience hostel life makes student life easier, as you don't have to take care of the maintenance, or because of studies we sometimes find it difficult to cook, in such situations I used to pick up dinner or lunch from the hostel's food services or maybe Tesco sometimes.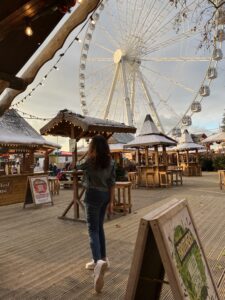 In conclusion, my journey as an international student pursuing a master's degree in London has
been nothing short of amazing. From deciding to study abroad to choosing the University of
Greenwich, selecting the right course modules, and facing the challenges along the way, it's been
a transformative experience. So, to answer the question that every prospective international
student has – is it worthwhile to study abroad? My resounding response is yes. My year in
London, at the University of Greenwich, has not only enriched my academic knowledge but also
shaped me into a more confident and well-rounded individual. It's a journey I'll forever cherish
and recommend to anyone looking to expand their horizons through international education.
Have you also read these articles?
https://www.ish.org.uk/https-www-ish-org-uk-international-student-in-the-uk/